IMPROVE YOUR SHOP FLOOR TEAMS' SKILLS!
With Alex, you can say goodbye to Excel and/or paper files for identifying, promoting and developing the skills and versatility of your teams. Plus, you can digitalize monitoring workstation training and certification.
REQUEST A DEMO
SKILLS & VERSATILITY MATRIX
manage the flexibility
of your teams
See an overview of the skill levels of each worker at a glance on your mobile phone or computer:
• Level 1: no skills on the job yet
• Level 2: apprentice at the workstation
• Level 3: independent at the workstation
• Level 4: expert and capable of training others


Employee levels are updated in real-time and you are notified if a skill certification is about to expire. You can even set a timer for when you want Alex to notify you.
TRAINING MANAGEMENT
create trainings to
improve a worker's skills with one click
Need a trained worker for a workstation? Select a worker, choose the level they need to reach and click on "Training". Alex calculates and creates all the training necessary to reach your goal.
MONITORING THE TRAINING
Follow training
progress directly
Whether it is on-the-job or group training, plan for all your needs with just one click. Alex reminds you when training starts, shows you workers' progress and even lets you know if workers are overdue for retraining.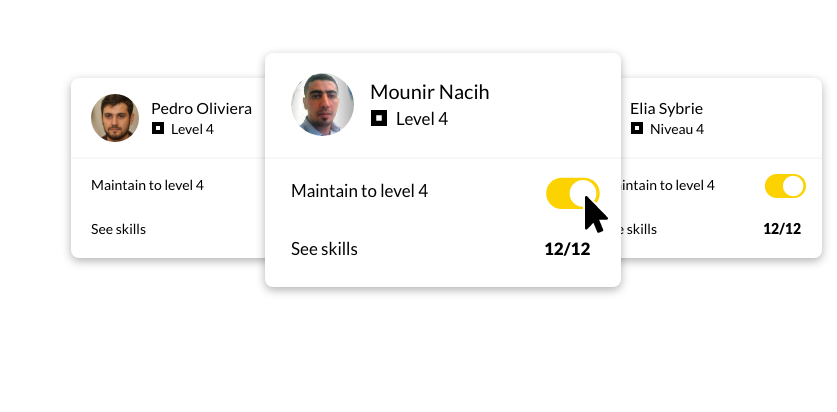 RENEWAL OF TRAINING REQUESTS
Automatically maintain
your workers' skill levels
Alex automatically renews training requests to keep workers at their highest performance level. Workers and managers are notified when training is needed and Alex automatically sends training requests.
DIGITALIZE PROOFS
quickly upload a photo, digitalize all your proofs !
Certificates, Quizzes, permits, authorizations, training sheets… Don't waste any more time manually entering and classifying them. Upload a photo of the proof of training, generate an electronic signature or form and the database will keep track. No more risk of loss either!
DISCOVER WHAT ALEX CAN DO
In addition to being a decision management tool, Alex eliminates invisible costs related to time spent coordinating, looking for proof of skill, calling and emailing. Alex is your new virtual assistant, allowing you to reinvest the time saved on other added-value tasks.
KPI and Real-Time Management
No more Excel files to update or paper files to search. Alex evaluates the skill levels of your workers and calculates the cost of their training for you.



Audit Compliance
No need to prepare for your audits (the day before at 11 p.m.!). With just one click, you can download all of Alex datas into Excel files with up-to-date compliance statuses.
ISO 9001 & dematerialization
Alex consolidates and securely stores workers' training certifications in accordance with the ISO 9001 standards on skills management.
Tasks Automation
Do you want to automatically maintain worker skills? Alex automatically renews training requests before certifications expire.
Optimized Training Times
Training requests are centralized, facilitating the organization of group training. On-the-job training progress is also available and you are notified in the event of a delay.
Increased Internal Mobility
You can rapidly find qualified workers on other teams, and workers can see their evolution and take initiative in their own careers.
WHAT PEOPLE ARE SAYING ABOUT ALEX
Don't just take our word for it, find out what our users think!
"Alex responds to the need to be constantly connected to the industry and up-to-date. The tool is suitable for quickly developing our workers' skills.
It is always a good thing for an employee to see that they are being paid attention to and that their skills don't go unnoticed."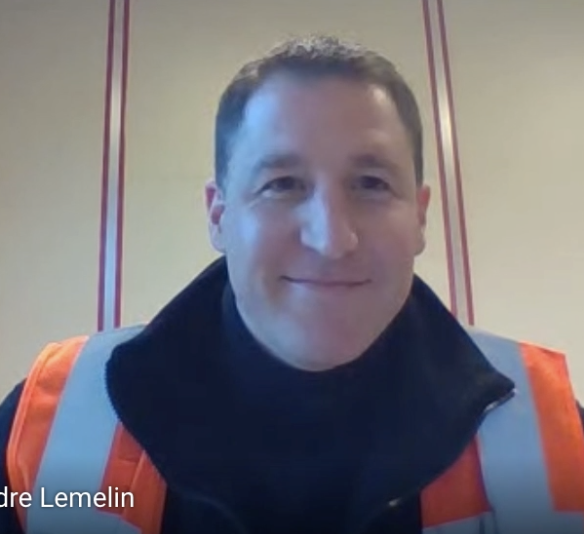 Alexandre, Production
manager
APERAM
"It's a very good invention. The app can show us the different workstations, the various training needed, and the continuity of an employee's training!
There is always a goal to set and it is very easy to use. We save time and we immediately know what's next!"
Nathalie, Team
Leader
DAHER